The Chantey Cabin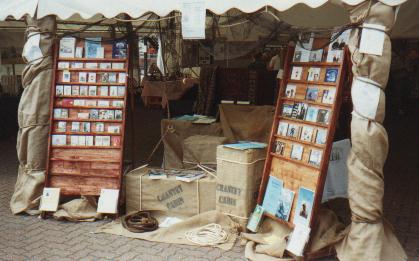 We ARE.... Ken and Jan Lardner, just two people who enjoy folk music in general and Maritime Folk music in particular. We enjoy these events and over the years have become "involved" - we cannot sing or play musical instruments but as a way of repaying just some of the hours of pleasure we have had, we decided to act as a central point for the artists tapes, CD's and Books.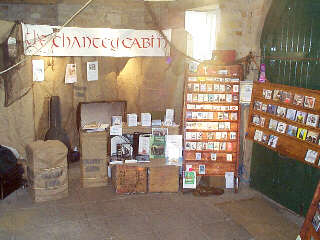 We are NOT...a full time business, this is a hobby, nor are we going to try to sell you something for the sake of selling - we want you to go away with happy memories of the festivals, and a tape, CD or book which will not only bring back those memories, but will encourage you to come back to hear and enjoy more.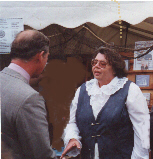 We ARE.... happy to talk, give advice, listen to what you want, find out the answers to any questions you may have. We are fortunate enough to have the support of all the artists listed in this catalogue, and during festivals we also sell the tapes etc. of those who are appearing. The items listed in this catalogue represent our basic stock, but we also have odd copies of tapes from many parts of the world - if you have a particular request please let us know we may have a copy!! We have too many of these single tapes to list here - just talk to us!
Jan and HRH Prince Charles on his visit to the Chantey Cabin at Swensea 1998
We are Maritime Music specialists, however there are occasions when artists, who are primarily Maritime singers, have recorded either a mixture of maritime / non maritime songs or a non maritime set. To help those singers we have agreed to include these items in the catalogue, but we will not accept tapes, CD's or books from artists who do not appear regularly at Maritime events or Festivals.

The Master and His Lady aka Ken & Jan (Us)
To ensure that our customers are aware of this we have marked our entries as follows:-

Maritime Only

Mostly Maritime

Some Maritime

No Maritime

A Light Hearted Look

We sincerely hope that you enjoy the music listed here.

THE CHANTEY CABIN
" Have you got that tape?
You know the one!
About that chap who went round Cape Horn.
I think the titles something like Bosun."
In a still, small voice and with a shy smile.
The request is made with no real hope.
"I've been searching for quite a wile."
But Jan & Ken are sure to cope.
A pause for thought and an exchange of smiles.
" I think I know the one you mean."
A Quick flick through the latest files.
And they pick out the tape just like dream.
So if there's a problem you're having.
About songs or tunes or singers.
Take it down to the Chantey Cabin
Where the Lardners are sure to come out winners.
Jim Saville Sept 2000
Jan & Ken Lardner are regulars at Shanty and Maritime festivals where most of the artists rely on them to do the commercial side selling tapes, CDs, books etc